Alexandra Exter
Bialystok 1882 - Fontenay-aux-Roses 1949


Alexandra Exter (or Ekster), the suprematist and constructivist painter, designer, and co-founder of the Art Deco movement, was born on January 6, 1882 in Belostock. In 1907, she studied at the Kiev art school, then at the Académie de la Grande Chaumière in Montparnasse, Paris. From 1908 to 1924, Exter lived in Kiev, St. Petersburg, Odessa, Paris, Rome, and Moscow. In 1908, Exter showed together with the members of the group "Zveno" in Kiev.
In 1914, Alexandra Exter presented at the Salon des Indépendants in Paris and at the International Futurist Exhibit in Milan with Kasimir Malevich, Alexander Archipenko, Vadym Meller, Sonia Delaunay-Terk. Exter joined the avant-garde group "Supremus" in 1915. Three years later she founded a teaching and production studio in Kiev, in which artists such as Meller, Petrytsky, Redko, Chelitschev, Shifrin und Nikritin contributed. Moreover, Alexandra Exter worked as a costume designer until 1920.
Her abilities brought Exter to Alexander Tairov's Chamber Theater and to the ballet studio of the dancer Bronislava Nijinska, the sister of Vaslav Nijinsky. The next year she was appointed director of the elementary course of the Higher Artistic-Technical Workshop (VKhUTEMAS) in Moscow. In 1924, Alexandra Exter resettled in France, taking a professorship at the Académie Moderne in Paris. Two years later Exter moved to be professor at the Académie d'Art Contemporain under Fernand Léger. She participated in the exhibition "Cubism and Abstract Art" in New York in 1936 and also exhibited in Prague and Paris. Following that, she dedicated herself to book illustration and worked for the publishing house Flammarion in Paris.
Alexandra Exter was active as an illustrator until her death on March 17, 1949, in the Parisian suburb of Fontanay-aux-Roses.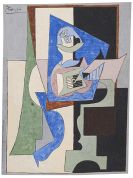 Pablo Picasso
Guéridon, guitare et compotier
277,500 $
Details